Welshpool's Geological Heritage Project 2012
Mid Wales Geology was lucky enough to secure £4650 from the Heritage Lottery Fund towards Welshpool's Geological Heritage Project. Several things came together to prompt this initiative. A fine collection of fossils was housed in Welshpool in Victorian times but sent to Cardiff fifty years ago. Surely it was time for a small part to be re-exhibited locally. An interesting story emerged about a young and inspirational Welshpool man, Joseph Bickerton Morgan, who became a noted amateur geologist and died tragically young in 1894. He was involved with the earlier fossil collection. And in 2010 there was published for the first time a detailed geological map of the Welshpool district, with explanatory notes, thus helping us to understand the local geology better. The venture was planned together with Powysland Museum in Welshpool and the National Museum in Cardiff.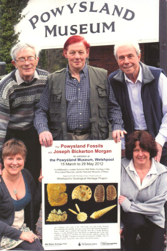 Several visits to Cardiff produced an interesting selection of specimens, which were arranged and explained in eleven display cabinets in Welshpool. To this was added a series of posters describing for the first time the life and achievements the young Victorian geologist. This exhibition, The Powysland Collection and Joseph Bickerton Morgan, was opened by the Earl of Powis and ran for ten weeks until the end of May 2012. Over 1100 people saw the display. The event also featured a specially made topographical model of the Welshpool geological map and an audio-slide show of the building stones of Welshpool.
During the exhibition period there was a Rocky Road Show at the museum, and three talks in Welshpool by guest speakers, on aspects of local geology. There were also several particularly well attended local field trips, and a schools outreach programme. The schools work, delivered by the Powysland Museum Education Service delivered curriculum-related modules to twelve primary schools. Several talks in Newtown, before and after the exhibition, were delivered by members of Mid Wales Geology Club on matters relating to investigations and activities undertaken during the project.
An informative leaflet was researched and printed on the building stones of Welshpool. This has been very popular. An inaugural walk around this town geological trail was led in May by Dr John Davies, formerly regional geologist with CCW. Another walk was conducted in September, and there will be more in future. The town geological trail is the first of its kind in Mid Wales. The leaflet is also available in English and Welsh on this web site, as is a leaflet on Joseph Bickerton Morgan.
Below is a selection of images from our hugely successful exhibition: